Men High Top USB Charging LED Light Up Shoes Flashing Sneakers - White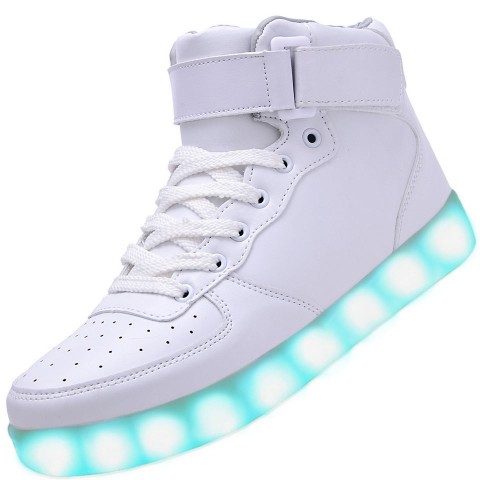 Our LED Lights Up shoes look amazing and light up in over 7 colors. They're also water-resistant! You can set it to one color or multi-light with the click of a button located inside the shoes
This men's LED Lights Up shoes are retrofitted with our LED lights in the Continuous setting. With the push of the on/off button the lights glow and the desired setting can be selected among three different continuous options: solid glow, flash, and rapid flash. Power is provided by two CR2025 batteries in the tongue that are easily replaceable. Battery life per shoe is between 6 to7 hours depending on the settings. As always these are designed to withstand consistent wear and active movement such as dancing as much as any normal pair of shoes.
We recommend that you order a half size up if you are in-between sizes

Please do not use it as running shoes and all other strong sports. Or else it will make damage to the light system. And the shoes won't light up again.


Men's Size Table
| US | UK | Europe | Heel to toe(inch) | Heel to toe(CM) |
| --- | --- | --- | --- | --- |
| 5 | 4.5 | 37 | 9 3/8 | 23.8 |
| 5.5 | 5 | 37.5 | 9 1/2 | 24.1 |
| 6 | 5.5 | 38 | 9 5/8 | 24.5 |
| 6.5 | 6 | 38.5 | 9 3/4 | 24.8 |
| 7 | 6.5 | 39 | 9 7/8 | 25.1 |
| 7.5 | 7 | 40 | 10 1/9 | 25.4 |
| 8 | 7.5 | 41 | 10 1/8 | 25.7 |
| 8.5 | 8 | 42 | 10 1/4 | 26 |
| 9 | 8.5 | 43 | 10 1/2 | 26.7 |
| 10.5 | 10 | 44 | 10 3/4 | 27.3 |
| 11 | 10.5 | 44.5 | 10 4/5 | 27.5 |
| 11.5 | 11 | 45 | 11 1/9 | 27.9 |
| 12 | 12 | 46.5 | 11 1/4 | 28.6 |
| 14 | 13.5 | 48.5 | 11 1/2 | 29.2 |